Jerry Gregoire, former CIO at Dell once said: "Customer experience is the next competitive battleground." Today, this is a reality that organisations need to take into account. To survive in an ever more aggressive business world, organisations need to understand their customers more than ever before. One way in which this can be achieved is to better understand the Voice of the Customer.
Voice of the Customer
Voice of the Customer is a term that tells more about your customer's needs and requirements. Why would an organisation want to know all about this? Well, simply because it serves the purpose of understanding pain points and uncovering reasons behind feedback received from your customers. Voice of the Customer enables you to create a unified view across the entire customer journey, which is not possible in any other way.
Organisations looking to enhance their customer experience, while simultaneously increasing growth, typically develop Voice of the Customer programs. Such a program consists of four parts that make up a closed-loop process. You can see the four parts of a typical Voice of the Customer program in the image below: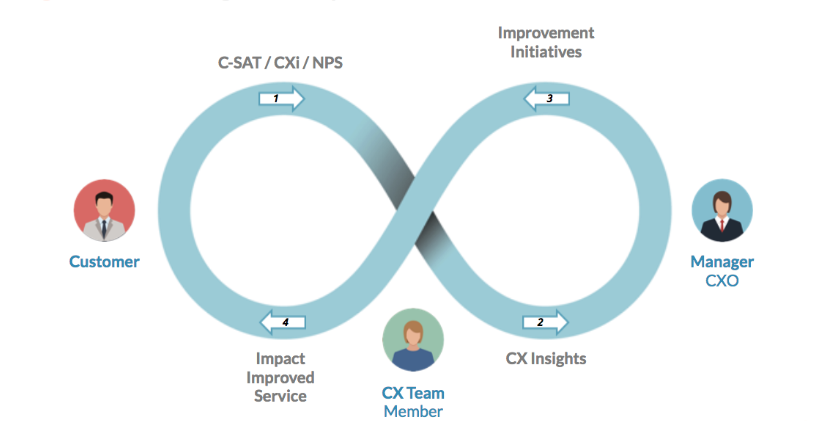 1. The first part is to listen to your customers. Customers will give you feedback concerning your products or services through various channels depending on your organisations preferences. It's essential to gather all this information in one place.
2. Next, it's important to interpret this data. Why are customers giving specific feedback and what insights does it deliver to your organisation?
3. Once you've derived the insights, acting on the data to improve the customer experience is crucial.
4. The last part is to monitor your results: Have there been improvements in your CX metrics, are the customers delighted?
After this, the loop starts all over again. This makes continuous improvement possible. Take a look at the example below that clarifies the closed loop even more:
Example
Your organisation captures customer feedback through several channels such as social listening and surveys. Once you've gathered all this feedback, your CX team will analyse it. After the analysis, they came to the conclusion that a lot of customers had specific complaints about the after-sales services. Now, it's up to the CX team to report their insights to the CXO. Based on the information, specific initiatives for improvement can be launched (e.g. closer follow-up after sales, improved guidelines for support) that should have a positive impact on the service. 
By repeatedly gathering and analysing the customer's feedback, your organisation will have a clear view if the initiatives have had a positive impact on your CX metrics. New insights are once again gathered, which will lead to another cycle through the loop – ultimately leading to continuous improvement.
Why is measuring Voice of the Customer important?
Research (by Aberdeen Group Report) has found that an organisation can reach close to a 10x year-over-year increase in annual company revenue. If you want to continue to be or be an industry leader, it makes sense to gather all possible insights concerning customer feedback. Successfully analysing these insights will give you a better understanding of your customers' preferences, complaints, and problems and allow you to:
– spot early warning signs
– increase customer retention
– customise products/services to the needs of your customers
– drive innovation within your organisation.
Gathering insights and acting on them can be a huge differentiator. Probably you're thinking by now: 'Hey this is great, but how can my organisation measure the Voice of the Customer?' Read on to find out more.
How do you measure Voice of the Customer?
There are various ways to measure the Voice of the Customer. A first method is through solicited feedback. This is feedback gathered from your customers through email, your website, text messages, surveys … it's all about you as an organisation actively trying to gather feedback from your customer. On the contrary, there's also the method of unsolicited feedback: feedback that you did not ask for and possibly not wanted to deal with. For example, think about comments that customers leave on social media pages.
How can you act on Voice of the Customer insights?
Having all this data is nice but if you don't do anything with it, it's been a waste of time and resources. To ensure the closed-loop process you must act on the insights. Onsophic's continuous improvement platform is designed with this in mind. Monitoring real-time feedback and integrating with all of your major digital platforms allow you to continuously increase the customer experience by identifying and acting on customer insights.
So, there you have it. Voice of the Customer is truly important to any organisation because it is the only way to systematically listen to your customers and increase overall business performance at the same time.
---